World travel adapter with integrated, dual USB charger
This innovative 2-pole adapter can be used in over 220 countries and functions as both a travel plug and USB charger for travellers from all over the world.

Multitasking for your travel companions
The compact, versatile World Adapter MUV USB from SKROSS(R) can do everything you want it to, all at once. While the adapter provides the correct connection for your electric razor, the dual USB charger module can top up the battery on both your smartphone and your tablet.
Built-in dual USB port
All this is made possible by a dual USB charger, which has been directly integrated into a SKROSS(R) travel adapter for the first time. This means that during the charging process, the connection side of the adapter is left free and can be used without restriction. The dual USB port provides sufficient energy to charge two USB devices easily, even if another device is connected via the adapter at the same time.
Technical Specifications
– Designed in Switzerland
– Suitable for all 2-pole (unearthed) devices
– Dual USB port for charging USB devices
– Receptacles for: Euro, USA/Japan, Australia/China, UK (UK not in the Swiss version)
– Retractable plugs: Euro, USA/Japan, Australia/China, UK
– Input voltage: 100 V – 250 V
– Max. load: 2.5 A
– Power rating: e.g. 100 V – 250 W / 250 V – 625 W
– Replaceable fuse: T2.5 A
– USB output: 5 V / 2100 mA
– Does not convert voltage
Weight:
 Adapter: 131g Retail packaging: 223g
Dimensions:
 Adapter: L 67,6 mm W 49 mm H 52,4 mm
Retail packaging: L 150 mm W 150 mm H 75 mm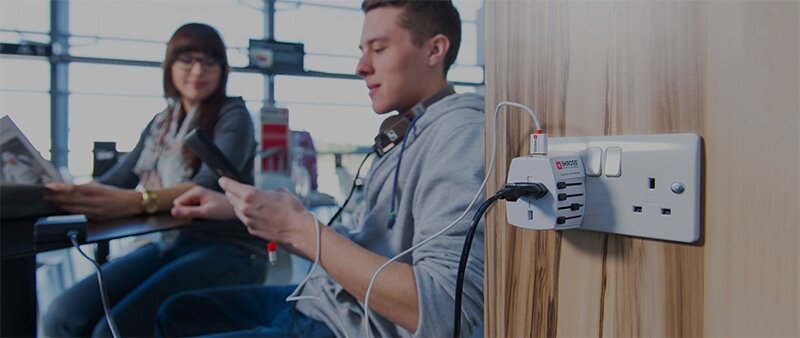 About SKROSS
SKROSS – Swiss innovation
SKROSS invented and patented the first all-in-one world adapter with country slider system in 2002. The World Adapter Classic promptly became a worldwide bestseller. Exports to over 60 countries confirmed that high-quality, multifunctional travel adapters that are both safe and compact attract tremendous international interest.
With its SKROSS brand, WorldConnect AG grew into a company operating on a global scale in just a few years, using its boundless power of innovation to develop products for mobile travellers. The company has one, clear objective: to be the global market leader for high-quality travel adapters. Today, our range of products includes world travel adapters with and without USB charging capabilities, USB chargers and batteries, as well as practical charge and sync cables for today